Dowery Crochet Booties Model Explanation
We have chosen the very beautiful crochet booties model for dowry and added its narrated construction. I believe you can easily make this model. You can also make this wonderful model in the colors you want. I recommend you to choose the green color as in the image and video. You can easily make this shoe with Ayşe Varol's explanation. I have attached this narrated video below, it may help you. Now let's take a look at this magnificent model.
Very Gorgeous Crochet Booties Model and How It Is Explained
You can easily do it all with crochet. There is only a seam on the sole, and you can learn how to do it at the end of the video below. This sole will not disturb the foot at all. The rose detail is also made of knitting. We also decorated the wrist with beads. You can change these details according to your taste. Necessary materials: crochet thread (you can choose the color and thread you want), number 3 1.70 mm crochet (you can choose crochet according to the setting of your hand. Let's start then, ladies! Take it easy!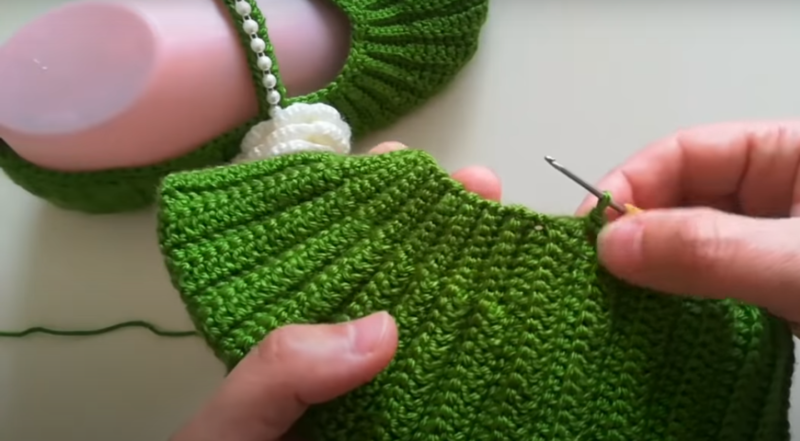 First we pull our chain of 24. Take 3 extra shots. There will be 3 handrails that you pull extra. 4. Build the first handrail inside the chain. There will be 2 handrails in total with the chain. Create a total of 24 double handrails and come to the beginning. Do the first part this way and you can watch the rest in the video below. I am sure that you will easily make this crochet bootie model while watching.
Very Stylish Crochet Booties Model You Can Make Easy and How to Make It With Video Narration
Source: Ayşe Varol (YOTUBE)
This very beautiful crochet bootie model has definitely caught your attention and you may be looking forward to making it like me. Let's take it easy on all of us and let's get started, dear ladies!